If you've got your LinkedIn account restricted, first things first….DON'T PANIC!
There are ways to prevent this from happening again and keep your LinkedIn account safe.
In this guide, we'll cover everything you should know to avoid your LinkedIn account being restricted, and what to do in case it gets.
So, by the end of this guide, you'll have an obvious idea on how to use LinkedIn safely and steps to take to avoid the LinkedIn jail.
Reasons your LinkedIn Account Got Restricted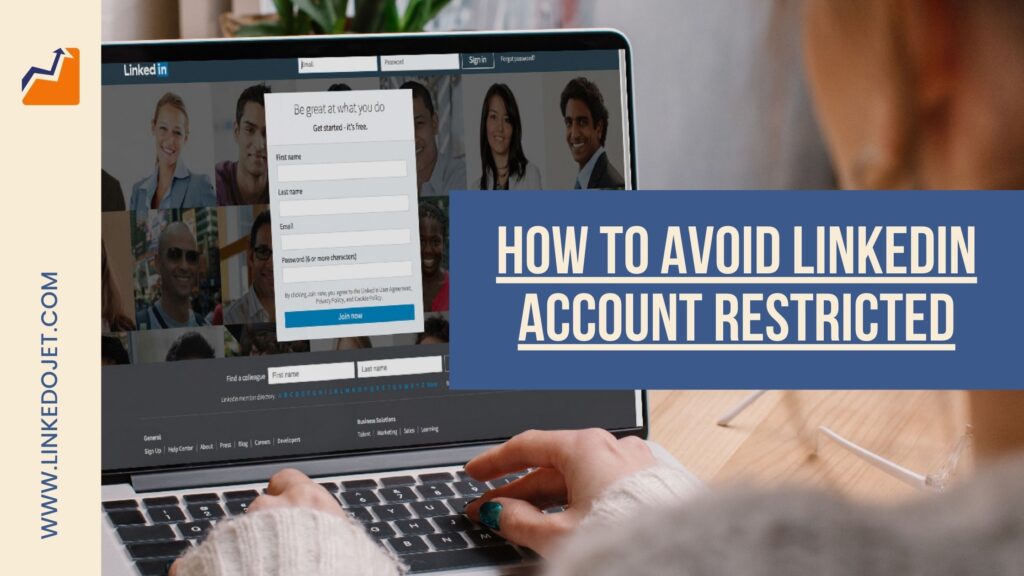 There are two types of restrictions imposed by LinkedIn:
Account ban– this happens when you create a fake account on LinkedIn.
Restriction on connection requests, where LinkedIn doesn't allow you to connect to more people, and asks you to provide email IDs along with the request.
So, how can you prevent getting your LinkedIn account restricted?
Well, PREVENTION IS ALWAYS BETTER THAN CURE!
Best practices to avoid getting banned on LinkedIn
Look:
Even if your LinkedIn account is not restricted, it's wise to follow some safe practices to avoid getting your account flagged.
And what are they?
1. Use the right LinkedIn automation tools to avoid LinkedIn Account Restricted
Using LinkedIn automation tools for your lead generation is a rage these days. However, that doesn't mean you should go with any tool in the market.
Let's explain it!
There are two types of LinkedIn automation tools – Chrome based and Cloud based
Chrome based tools live in your browser. Meaning, when you open up LinkedIn in your favourite browser, Chrome, you can use the tool as an extension.
They work from your browser, use browser cache, and don't offer dedicated IP addresses. This might set up a few alarms from LinkedIn.
Further, Chrome based tools lack some advanced features which make your lead generation easier and safer.
On the flip side, cloud-based Linkedin Automation tools work online and are safer to use. That's because:
They offer a dedicated IP address so that your LinkedIn login info stays consistent each time.
Unlike browser tools, it's harder for LinkedIn to detect because it's not front end.
Have Advanced features that allow for more personalization, and this makes your outreach efforts less spammy.
Bottom line?
Always choose cloud-based LinkedIn tools for your outreach campaigns.
2. Don't overshoot the LinkedIn limit
Using a LinkedIn automation tool for your marketing efforts is no big deal. However, if you get excited to run your campaigns in a way that they overshoot the LinkedIn limit, you stand a chance to be penalised.
Penalised as in? Getting your LinkedIn account restricted.
3. Send connection requests with a personalized note
To avoid 'I don't know this person' tag on your invitations, send connection requests with a personalized note.
Don't send them with LinkedIn's default message "I want you to add to my professional network. Please accept my connection request."
What to do if you get a LinkedIn account restricted?
Now, the worst-case scenario! Your LinkedIn account got restricted!
What to do next?
Follow these Do's and Don'ts!
Don'ts when your LinkedIn account is restricted
Don't panic
Your account got restricted or banned. Well, the reason doesn't matter, but what matters at this point is how to get your account recovered.
So, first, take a deep breath.
Depending on your account or activity, LinkedIn might issue a warning first. In such a case, disconnect any automation tools you've been using, and don't send a lot of connection requests or messages.
Don't create a new LinkedIn account
Puzzled?
Well, that's what the majority think! If your LinkedIn account is restricted or banned, just create a new one! But that's where you're wrong.
LinkedIn will detect a new account from your IP and restrict that too. Or might even ban you permanently for going against the rules.
So what to do instead?
Here's what you need to know:
Do's when your Account is restricted
This part is important to recover your LinkedIn account. So read it carefully.
Disconnect All LinkedIn tools
Most LinkedIn automation tools (except a few, like Linkedojet) go against LinkedIn's Terms of service.
Even if your account got restricted for some other reason, disconnect all automation tools associated with your account and clear your browser cache.
Once you do that, give a gap of a few days before logging in to your account.
If your account is still restricted, follow the next step.
Contact LinkedIn
So, finally, it's time to contact LinkedIn and apologize for your sins.
Use LinkedIn's Contact Us form for the purpose. Keep your identification documents like passport, identity card or driver's license ready.
Tell LinkedIn how your LinkedIn account got restricted, and that you're wondering what happened.
A couple of tips to contact LinkedIn:
Be honest
Don't mention about LinkedIn automation tools
Focus on recovering your account
Now, there are two potential outcomes:
You don't get a reply from them, in which case, try again after a month or two.
Your account got recovered
LinkedIn Account Recovered – What to do next?
Great news! You got your account recovered. Congrats!
But you're still on thin ice with LinkedIn. If you mess up here, LinkedIn might ban you permanently.
So, keep these things in mind from henceforth:
Don't go back to your old LinkedIn tools
That's pretty obvious!
If you were using any LinkedIn automation tools, cut ties and move on. Restriction is a sign that they aren't safe. In fact, don't use any new tools for a while.
Warm up your LinkedIn account from scratch
Consider your recovered account as new and use the safe outreach practices:
Stick to a few manual connection requests per day, and gradually build them up.
Try to connect with people you have mutual connections with.
Send custom, personalized, and engaging private messages that don't sound salesy
Delete old and pending connection requests
Use safe tools
Last but not the least, reconsider your LinkedIn tools.
If you've been using chrome-based tools until now, try cloud-based tools. They're guaranteed to be much safer and offer a ton of advanced features which help with lead generation.
A Quick Recap!
There are a few reasons why your LinkedIn account got restricted. But that's not the end of the world, and you can still recover your account.
It mainly has to do with how you use LinkedIn:
Follow the latest and safest LinkedIn practices.
If you were using any LinkedIn automation tools before, remove them.
Treat your recovered LinkedIn account like new.
Use safer cloud-based LinkedIn tools (2-3 after recovering the account).
Do NOT start aggressive mass outreach campaigns.
Avoiding your LinkedIn account restricted boils down to safe LinkedIn marketing and lead generation practices, and using the right LinkedIn automation tools. So start there.
Sign up for a free demo of Linkedojet here.
Discover How to Avoid LinkedIn Account Restricted (Top Tips For 2022)